Tan and Chan Dental
More than meets the eye. In Tan & Chan Dental, we strive to shed the perception of dentist = pain = fear. Beginning from the moment you step into our premises, you will be greeted with warm smiles by our friendly nurses and even our doctors themselves. We offer the best of both worlds by being both professional and friendly, offer high quality treatments which are affordable, as well as being patient-centric and ethical. You are in good hands.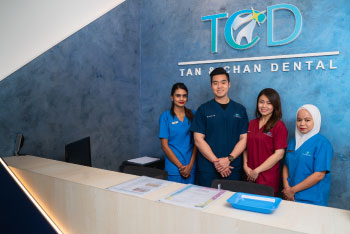 Dr Gerard Nicholas Tan Chyi Yang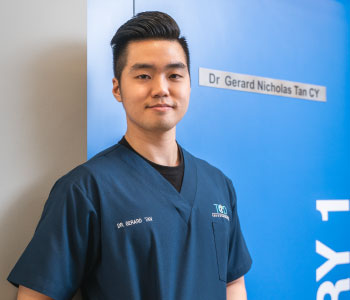 Dr Gerard, a graduate from Mahsa University, never had an inkling of interest in dentistry to begin with. It all changed during his study years when he learned about how significant a role of a dentist is in a person's life. He decided that dentistry is not a lifestyle option but a necessity and all are entitled to it. His resolve was further solidified during his stint in the government; working in the outskirts of Bestari Jaya & then moving into private practice in Kuala Selangor.

Dr Gerard developed a special interest in orthodontics & is currently pursuing multiple courses and training with regards to that field of specialty. Consistent with the teachings of renowned orthodontists around the world, he believes that orthodontic treatment is not limited to adults or children after the age of 14 but early treatment does have its place and valid purpose.
Dr Chloe graduated from Mahsa University at the top of her class; earning the prestigious award of Mahsa Chancellor Gold Medal Award amongst all the different faculties in the university. She has a keen interest in endodontics as well as restorative dentistry work which prompted her to join international competitions for case presentations with regards to those fields of specialty.

She served her compulsory government service in Kelana Jaya and Hospital Shah Alam before moving into private practice in SS15, Subang Jaya.

Concurrent with the mindset in Tan & Chan Dental; one never stops learning nor should one ever hope to do so, Dr Chloe is currently taking up courses as well as training in implantology. She firmly believes that the treatment options available to a patient are limited to what the doctor is able to offer & this should not be a major factor to anyone who walks into Tan & Chan Dental.
Dr Chloe Chan Soo Ling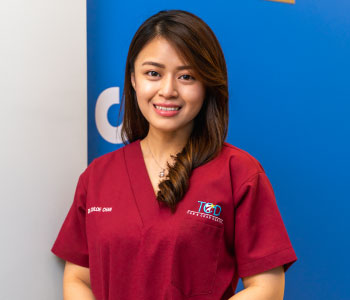 Send an Enquiry
Fill out the form below and we'll get back to you as soon as possible
Operating Hour :
Monday – Friday : 10:00AM to 7:00PM
Saturday : 10.00AM to 5.00PM
Sunday: OFF